For diner : Restaurant L'Ecurie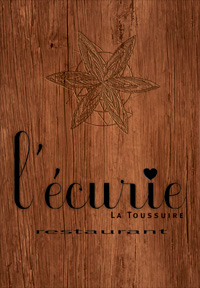 At the center of the resort of La Toussuire, a cottage on two floors:

Our hotel is located on the slopes, 20m from the ski lifts.
Our chalet restaurant dive you into the Savoyard atmosphere with all-wood decor of the time, very warm, it consists of several spaces in the colors of the life of yesteryear in the Alps.
The breakfast buffet is served between 8am and 10am.
For lunch, we offer a self service, as of 11 am, with a wide selection of dishes, you will enjoy our terrace on the snow front facing the sun.
At dinner in our restaurant l'Ecurie, we offer traditional cuisine and a wide selection of Savoyard specialties in a unique setting, with nightly theme parties where the servers are dressed as chimney sweep, or Tyrolean peasant of the past. .. to taste our specialties at the fireside.
On the menu for our hotel guests, each evening we offer a Savoyard specialty.
Then you can enjoy our living room with fireplace for a drink or a coffee ...
The day your kids can have fun on our inflatable or sledding without you getting to the hotel or on the terrace while you enjoy your hot wine, chocolate or pancake ...
Our "Snack Bar Track" will allow you to bring your picnic if you wish to ski all day
Im Herzen der Skistation La Toussuire, ein Chalet auf zwei Etagen:
Unser Hotel ist direkt an den Skipisten, nur 20 Meter vom Skilift.
Unser Chalet Restaurant entführt Sie in die typische Atmosphere Savoyard mit Holzdekor aus alten Zeiten, gemütlich, warm, mit mehreren Räumen in den Farben der Alpen gehalten.
Frühstücks Buffet servieren wir Ihnen von 8 bis 10 Uhr.
Zum Mittagessen bieten wir Ihnen ein reichhaltiges Selbstbedienungsbuffet ab 11 Uhr, mit kalten und warmen Spezialitäten, die Sie auf unserer Terrasse im Schnee, mit dem Gesicht in der Sonne geniessen können.
Am Abend bieten wir Ihnen in unserem Restaurant Ecurie, unsere traditonellen Spezialitäten Savoyard in ihren typischen Behältern. Jeden Abend sind die Servicemitarbeiter in einer typischen Kleidung: Schorsteinfeger, Tyroler Kluft, und mehr...lassen Sie sich überraschen.
Für unsere Pensionsgäste bieten wir jeden Abend ein Spezialitätenmenu an.
Zudem können Sie in unserem Kaminzimmer einen Drink oder Kaffee geniessen.
Ihre Kinder können sich beim Schlittenfahren oder auf einem Luftspiel vor dem Hotel vergnügen, immer mit Sicht von der Terrasse auf Sie, während Sie einen Glühwein oder heisse Schokolade geniessen.
Unsere Snack Bar bietet Ihnen verschiedene Sandwiches und Picnics, falls Sie non stop skifahren möchten.